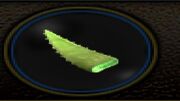 The Plant in Secret files tunguska is a Aloe Vera. You can find it in the corridor of the museum and you can take a piece of plant from it.
Nina says: There's an oily liquid dripping off of it.
First press the oily liquid in the Porcelain bowl,
then make Putty if you combine the porcelain bowl with the Plaster Sack.
Pictures
Edit